Nunu Casamor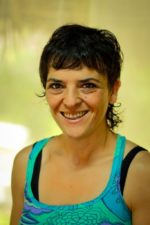 Bio:
2013 Acroyoga teacher certified by Partner Acrobatics
2014 Acroyoga teacher certified by Acroyoga internacional
http://www.acroyoga.org/teachers/nuria-casamor-fuster#
2017 Acroyoga teacher certified by Acroyoga Montreal
https://acroyoga.com/nuria-casamor/343
Born in Barcelona, Spain, I am an eternal researcher of AcroYoga practice, with the desire to share and create community without borders. Together we will create a respectful practice with our body, consciously, safely, creatively and fun. " During the last three years 2013-2017, I have created my personal project: Nunuairways, aimed at the the promotion and training of Acroyoga in various parts of the world. Traveling around, Spain, Asia (India, Thailand), Mexico, and now Colombia, where I have put together a series of intensive Acroyoga Workshops, and events wherever I went, being a great opportunity to learn how to reach various peoples in the world through Acroyoga and grow with the practice, gaining experience with the diversity of cultures with which I have had the opportunity to share with. Currently in Bogota, Colombia I am performing an artistic residency at La Aldea Nicho Cultural Corporation, a multidisciplinary space located in La Candelaria, downtown Bogota city, where I collaborate with cultural management, Acroyoga trainings and I am helping to implement the Acroyoga artistic residences with other disciplines.