More Info on Partner-Acrobatic's Trainings and Teachers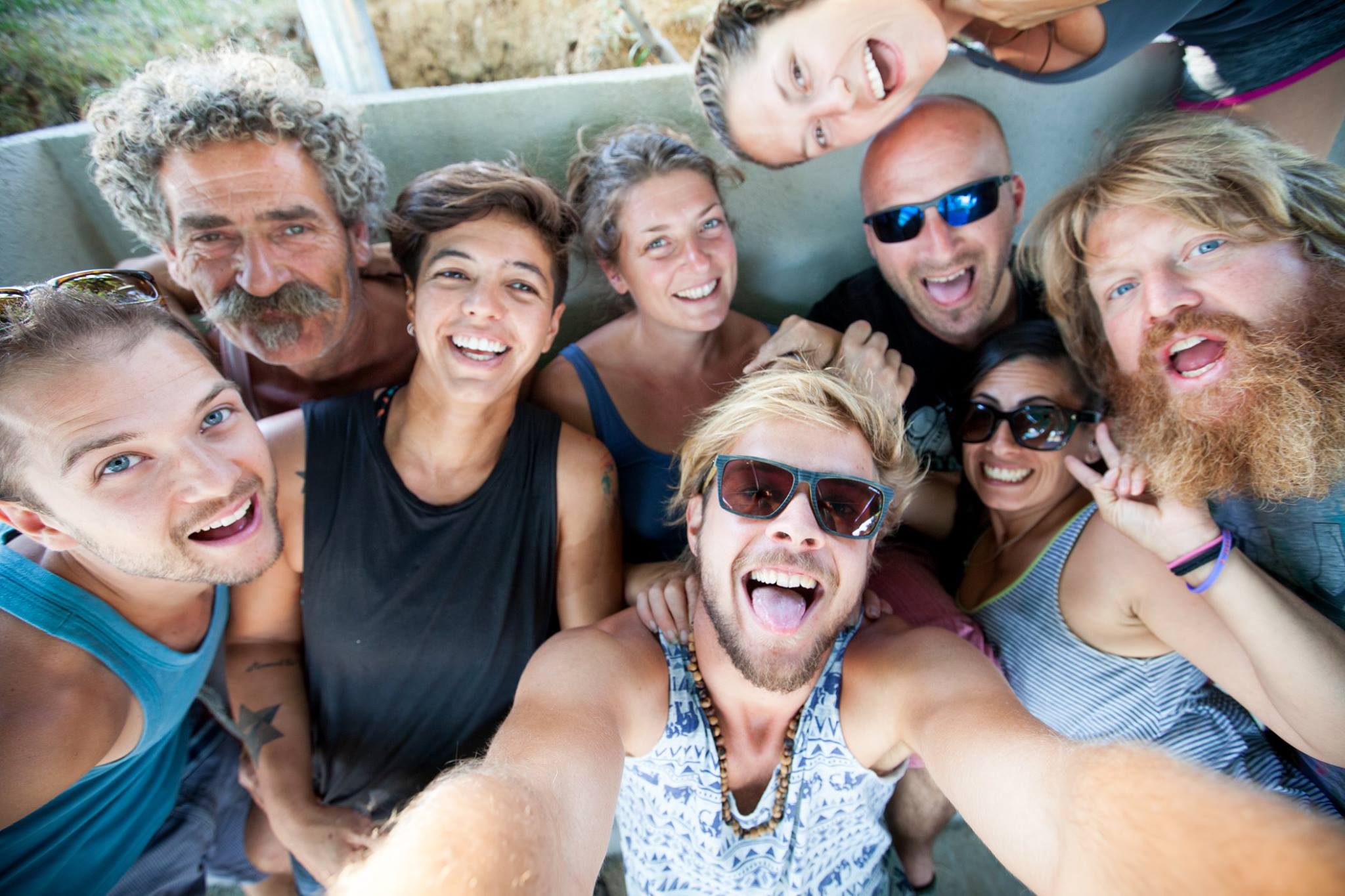 History
Emily, Niko, and Lorenzo had their first teacher training in Goa, India, in January 2013. Many students from that first Training make up the team today:) They began with a focus on fun and serious training.  Since then,   the curriculum has been expanded, the teaching team and locations have grown.  A serious focus on physical sustainability began in the early years and our current  programming has been tried and tested for efficient results.   Lorenzo and Niko took other paths while Emily continues to teach with rest of the Partner Acrobatics crew.
Offerings
Partner-Acrobatics.com offers multiple types of courses in Spain, Thailand, and Mexico with a diverse teaching team. The laid back attitude, combined with smart, hard training allows this group of passionate acrobats to share their skills and knowledge with others internationally. Our motto is "Safety. Teamwork. Fun."
The Partner Acrobatics programs cover many different acrobatic disciplines, including: standing acrobatics, handstand training, washing machines, trio tricks, icarian games and much more.
At the heart of our training programs is the concept of sustainability of the physical body – the use of proper alignment and the principles of sports science to increase performance and decrease the risk of pain and/or injury.
This element of our trainings is weaved into our Prehab program – a selection of exercises specifically aimed at promoting injury prevention, structural integration and correct movement technique for long-term physical health and fitness. These include postural realignment exercises, resistance training and correct breathing techniques. This physical intensity of our program is balanced out with our therapeutic sessions that aim to heal and restore the body.
During our courses we often concurrently run 2 classes at a time, giving the students the option to choose between: standing acro or L-basing. We have a few optional evenings and a one a week a Therapeutics class. Our therapeutic options include Thai Massage, Flying Therapeutics and the One Minute Practice.
Flying Therapeutics is a bodywork practice where the receiver (flyer) benefits from a weightless, inverted and restorative treatment. For more information and videos, visit www.flyingtherapeutics.org.
The One Minute Practice  is a self care system empowering people to treat themselves or others using breath and micromovements. For more more information, visit www.one-minute-practice.com.
FAQ
What is Partner Acrobatics?

The sport of partner acrobatics is an exciting practice has been performed around the world for hundreds of years. The practice involves two or more people, with one person as the 'base' (in standing or lying position), lifting, moving and supporting another person as a 'flyer'. The poses/skills can be static or dynamic and can be practiced one-off, in a sequence, or in a whole show. It is simply loads of fun.

What Trainings do you Offer?

We offer two types of trainings. Our Intensive Training is 1 or 2 weeks long. The next one is in Spain, June 12-25th, 2021. And we hold a 4 week long Teacher Training, in Spain, August 1-28, 2021. Both are residential and inclusive of all food and accommodations.

Check out our events page for more details.

What sets your training apart?

1. We focus on dutch and circus style acrobatics, along with handstands, washing machines, trios, and therapeutics.

2. At the heart of our training programs is the concept of sustainability – Our Prehab program focuses on the use of proper alignment and the principles of sports science to increase performance and decrease the risk of pain and/or injury.

3. Our teaching methodology has us break down concepts of progressions and study teaching techniques through a sports science approach. We encourage students in finding their own teaching style. 

4. Most of the training is spent refining and learning new skills/tricks and flows, Students can work at their own level, since there are simultaneous classes run from intermediate to advanced.

Who's this practice for?

Everyone! Amateur & professional acrobats, practitioners of Acroyoga, Partner Yoga, Acrosage, Inversion Therapy, Tulayoga; anyone wishing to enhance their skills: existing teachers that want to train intensively as a student, circus artists that want to improve their practice with partners or groups, and anyone with passion and determination to have fun.

Will I enjoy it?

Yes! The joy of succeeding in your body, as well as the vast amount of information you will learn about body mechanics and sport science will entertain your mind for the entire training. You will be around lots of other fun acrobats, in excellent locations, with great food. What's not to enjoy?

What certification do you offer?

Upon successful completion of the course, you can receive a certificate and be listed on www.partner-acrobatics.com as a teacher with a bio and any link to a personal webpage.   There is no accrediting government in Acrobatics.  There is nothing stopping you from teaching right now :)  Over the course we will be training and practising to build up skills (because you need to be able to do what you want to teach), and focus on how to break things down using various progressions -regarding how to teach various levels, developing on teaching skills and practice teaching. Most acrobatics teachers simply teach from experience.  What we think is important is that you are a good teacher!  You will gain those skills over the course of the month.

I'm not super fit, can I still join in?

There is quite a bit of physical activity in these trainings. You can still join if you meet the prerequisites, but your own strengths and weaknesses will determine how much you succeed in everything you try.

Are all the classes mandatory?

For the 2 week long intensives, no! You can come to any of the classes, on whichever days you choose. We recommend that you come to all of them to receive the full benefit of the trainings, of course.

For first time students at the Teacher Training, yes the classes are mandatory for you to at least view. If you cannot be an active participant you must still join in on the classes to meet the required amount of hours to be a credited Partner Acrobatics Teacher.

What happens if I can only make part of the training?

You would be missing out on more progressions and variations…but it is a lifelong journey :) The second week builds on the first week, and in the Teacher Trainings, the third week builds on the second, and so on.   A lot of the content (tricks, skills, flows) would be practice at both the intensives and Teacher Training but on the TT we break skills down and have blocks of time focused on how to teach the material.

Do you have a code of conduct?

We are very lucky in that almost everyone who attends our courses are respectful and courteous people who conduct themselves responsibly.  However here are some more guidelines:)

We expect our students to conduct themselves respectfully and treat others how they would like to be treated. We expect that our teachers will be proactive, think independently, creatively and collaborate with others to solve problems. We want them to do their best and to be honest when they don't have the answers. Down means down, no means no.

Our motto is safety, teamwork, fun…they really do come in that order

If you feel you need more guidance on how to conduct yourself please refer to this detailed document from the Acroyoga Austin FB group