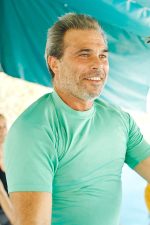 Bio
In 2001, André began his career in therapeutic massage in Stockholm at the Axelsons Gymnastisca Institute, where he majored in sports and rehabilitation massage.
In Sri Lanka in 2003 his eyes and touch were opened to different oriental approaches such as acupuncture, cupping and moxibustion at the Open International University for Complementary Medicines when he met Dr. Anton Jayasuria.
He began to realize that in complementing different therapies he would get more positive results, rather than following a defined therapeutic line. In 2005 he began a constant back and forth between Thailand and Portugal, that lasts until today. He fell in love with Thai Massage, and just like with any other passion he tried to absorb as much as he could by studying in various schools and with Masters of different lineages.
Until the day he met his current Master Ajhan Pichest Boonthume, with whom he totally identified. Today his work is a combination of several styles, but based on the teachings of his master - working effectively but in a very relaxed way.