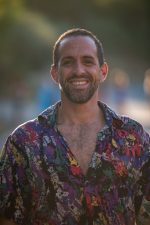 Bio
Camilo met acro for the first time in 2017 in Thailand, and since then he has been playing and training all over the world.
With an Agricultural Engineer  degree as background and after 7 years dedicated to manage environmental projects, Camilo decided to travel the world looking for new challenges and experiences to learn from. This journey took him to find acroyoga and 7 years later he is finally a certified Partner Acrobatics acroyoga teacher.
He has always been related to sports, with a strong background in Judo, Rock climbing, Yoga, Skydiving and Scuba diving. Acroyoga brought the sense of community and healthy lifestyle that he was looking for.
Camilo is a strong and kind base, gifted with great social skills and good comunication. His main theme other than the tricks, is to focus on consent and quality of comunication to the acrocomunity around the world.
Currently based on the Pacific coast of Oaxaca, Mexico, he is actively building an acro community there. Who knows where the winds will take him on the future, but for know is time to go back to his home land, Chile, to keep growing and sharing his beautiful soul and empowering and supportive energy to everyone on his way.
If you see him in a Jam, a class or in a convention around the world, he will always have a big hug for you and a few tricks to practice.