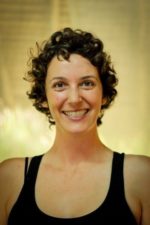 Bio
As someone who has always loved having fun and sharing laughter, Carrie considers partner acrobatics to be the perfect blend of trust, coordination and connection.
What excites her most is how this form of playing can be for everyone; and Carrie's greatest joy is seeing the huge smile from someone doing something they previously thought they couldn't do.
With 10+ years of experience as a yoga instructor and an emphasis on safety and providing clear and easy instructions, Carrie is thrilled to share partner acrobatics with everyone.
By utilizing a variety of international practices during her partner therapeutics sessions, Carrie truly guides one to fully release and come back to bliss.
Carrie's passion also extends to holistic arts; and the understanding that to heal oneself is to heal the world.
During her lifelong and worldwide journey, Carrie has completed numerous certifications; including Reiki Master, Thai Massage, DANCEmandala facilitator, Hatha Yoga Instructor, Partner Acrobatics & Partner Therapeutics.
After all, what could be better than spreading joy and happiness and sharing these skills with others?