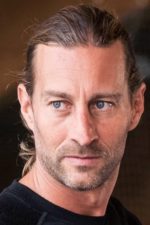 Bio
Daniel Marty from Basel (Switzerland) has always been passionate for all kind of outdoor activities and (fun) sports, be it course cycling, swimming, mountain running, soccer, hiking, climbing, skiing, stand up paddling, and most notably windsurfing. He was working several years as a windsurf instructor back in the 90s and one of his passion remains the hunt for big storms and waves ("stormchase").
In 2012 he came into Partneracrobatics and AcroYoga, which ever since became a new passion. Daniel believes that Partneracro definitely is a "fun sport", that combines loads of fun and sport ("work out") with meeting people and making new friends all over the world by taking risks and having and sharing success (or failure) together, and by building trust and communities.
Daniel has completed the AcroYoga.org level 1 & 2 teacher trainings, AcroYoga Montreal level 1 teacher training, a Partneracrobatic/Acrobalance teacher training with Jim & Det (stichtingstapel.nl, Amsterdam), and the Partneracrobatics.com teacher training.
He's very active in the Acro community in Basel (Switzerland) in the organisation of jams, training days, and workshop with international teachers including big events such as AcroGasm. He's mainly teaching at children circuses and occasionally at festivals/conventions (e.g., Swiss AcroFest, AcroYoga Spring/Summer Festival, Winter Acro Festival, …).
Another passion of Daniel is paleontology as he started collecting fossils in the Jura Mountains as a small boy. Today he's working as a paleontologist specialized on dinosaur footprints, as an editor for scientific journals, and he teaches paleontology at the University of Basel.