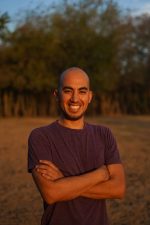 Bio
Born and raised in Perú, Diego Bieberach moved to the United States at age 15. He remembers being awestruck by people flying and doing acrobatics on top of others in 2015 at a festival in Austin, Texas. Ever since, he has traveled and practiced with multiple AcroYoga communities around the world in Lima, Cuzco, Houston, Atlanta, Medellin and Buenos Aires. In 2023 he decided to become an international certified Acroyoga teacher, completing a month long residential Teacher Training with Partner Acrobatics.
He has spent a great deal of his life exploring movement in different disciplines, but what hooked him most about Acroyoga was the feeling of a healthy and trusting community. This is the reason why he is so excited about sharing this same feeling, leading him to create a judgment-free space for his students where they can develop their own potential with a huge dose of fun.
Currently teaching regular classes and workshops, he plans to open a cultural center one day to share more of these passions with others and offering them a guiding hand in the process of discovering that they are capable of more than they think.