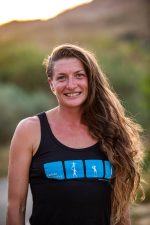 Bio
Emily is dedicated to sharing and teaching whatever she can to inspire freedom in people.
After discovering AcroYoga Emily pursued Acrobatics and loves the challenges and fears that the practice brings up then breaks through.
She has taught anatomy, methodology and adjustments on many Yoga Teacher Trainings. She is also trained as a Postural Therapist.
Emily has always had a passion for movement and body awareness. This coupled with her strong background in anatomy manifests in her teachings as clear, precise, thoughtful instruction.
She continues to study, travel, teach, play and laugh wherever she may find herself.