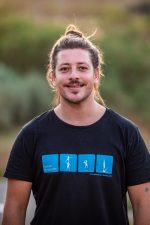 Bio
Fer Lucino is a nomad born in Argentina.
He has been teaching and sharing this discipline for several years in different parts of the world. He loves Icarians and especially all the foot to foot tricks.
He believes that acroyoga is more than just a practice, but rather a lifestyle where what is learned on the mat is carried over to your daily life.
He loves the sea, the waves, the adrenaline of extreme sports and his gift is balancing objects with his chin.
Together with Sol he is the host of the Teacher Training in February 2023 in their farm close to Buenos Aires.