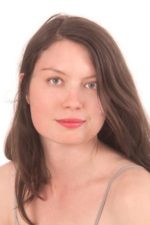 Bio
Frances is proud to be the first certified Flying Therapeutics practitioner in Europe!
Her practice rests on the belief in the power of touch and physical contact to benefit our wellbeing, and a recognition that this can be difficult to find in modern life.
A qualified VTCT Thai massage therapist, she incorporates this into her Flying Therapeutics sessions.
She is also certified as a Partner Acrobatics teacher, attracted to the playfulness and simplicity of this practice, free from the need of specialist equipment, studios or clothing and emphasising co-operation over competition.
Frances is fully insured by Balens to practice and teach both of these disciplines.
Aged 18, she began practicing yoga and continues to this day, and it enabled her to see how fitness could effectively manage the chronic back pain she's had since her teens.
As Frances doesn't come from a sports of gymnastic background, she understands the challenges faced by her students, and this quote by Arthur Boorman sums her way of thinking:
'We cannot place limits on what we are capable of doing as often we don't know our own potential'
Frances loves literature, reads widely and her literary fantasy is to spend 'the green hour' in Paris chatting to Alfred Jarry, Vladimir Mayakovsky and William Burroughs.
Currently, she is divides her time between England and Paris and lives with her French boyfriend.