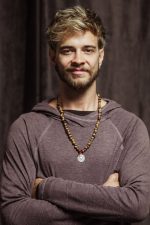 Bio
Gabe Moves (formally known as Ishine Gape) founder of barefootyoga.eu and ishine photography is an Acrobatics and Yoga instructor, as well as Massage Therapist with more than 15 years of experience.
Originally from Austria, Gabe loves to spend his time traveling, learning about other cultures and eating foreign food. With a heart full of humor and arms so long he once managed to hug 5 people at once, he is facilitating a wide variety of trainings in Europe and South East Asia.
Gabe is well known for his unique and precise way of teaching. His passion for bodywork gives him the opportunity to welcome and embrace people from all walks of life and encourage them to find freedom through movement and touch.