Giulia Babolin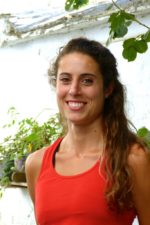 Bio:
Coming from a family of athletes, Giulia has been exposed to sport and movement from a very young age. Professional volleyball player at the age of 16, she spent most of her teenagehood in gyms and in-and-out of trainings. Before falling in love with acro and yoga, Giulia completed her Fitness Aquaria teacher training (level I and II) in 2009 and taught fitness for a couple of years before leaving Italy in 2012. Over the last few years, she has been practicing many disciplines, from surfing to Latin dancing and rock climbing. She was introduced to acro in 2013 in Dublin and she instantly fell in love with this powerful discipline that combines strength, body awareness and mutual trust.
In 2015 Giulia quits her boring office marketing job in Ireland and goes travelling in South-East Asia and Pacific, where she meets Partner Acrobatics. During her year sabbatica, she undertakes Partner Acrobatics intensive training in Chiang Mai and her acro teacher training the following summer. Giulia is eager to spread this beautiful practice and to share it with whoever crosses her path worldwide.
Her wish is to continue exploring and learning from different disciplines, schools and inspiring humans. All the while, growing as a professional acro and movement practitioner.