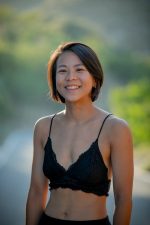 Bio
From the subtropical island nation of Taiwan, I've been sharing my love for AcroYoga with a beautiful community comprising both locals and expats. Often drawing inspiration and energy from various forms of movement: I connect with the ocean through freediving, scale mountains through hiking, build bridges with other humans through dance and AcroYoga, and find inner alignment through yoga, Muay Thai, and bouldering/climbing.
With a calm and serene disposition, I find joy in forging mindful connections with Mother Nature and human beings. AcroYoga provides me with many opportunities to nurture both of these bonds!
In addition to the connection with people, determination to keep trying is what continually draw me back to AcroYoga practice as well. This journey has not only fortified me physically and mentally, but has instilled in me a trust that I will steadily adapt to the demands of different movements, be it flows, whips, pops, or Icarian. Moreover, my strength in compassion fuels my dedication to environmental preservation and equality, and as such, I'm committed to creating a space where movement and nature come together to uplift everyone.
It would be wonderful to have you join me in experiencing AcroYoga! Together, we can co-create a world where celebrates the art of movement, nurtures meaningful connections, and appreciates the exquisite beauty of our planet!!