Jack Moore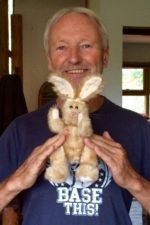 Bio:
I am a longtime Iyengar and Ashtanga yoga practitioner who was introduced to acro yoga in 2008, and my life has seemingly gravitated to aerial inversions ever since…it's just so fun!
I have since studied acro yoga and flying therapeutics under the direction of many gifted and inspiring teachers across the globe, and have been teaching and sharing the joys of both at classes and workshops in the U.S., Mexico, Asia and Europe since 2011.
Many people who discover acro yoga say that it has turned their life upside down. I guess I'm living testament to that, since I feel younger today than I did in my younger years…and love sharing the joy of flight, movement, freedom, inversion and magic that acro yoga offers.
Please come fly with me if you're ever in the neighborhood!