Jessie Waygood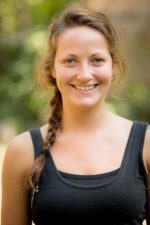 Bio:
Jessie has spent the last 8 years spliting her time between the UK where she works with kids, and travelling the globe. After joining the Flying Seagull Project in 2009 she realised the beauty of combining the two worlds and has continued to make it a reality at every opportunity.
After practicing Yoga for several years she has spent a lot of time in India exploring many different schools of yoga and it was in India she discovered Acroyoga for the first time. She and Jolien were completely obsessed by this strange new world, it became their mission to master this crazy artform.
She qualified as a partner acrobatics teacher along with Jolien, and on their mission to master, they found a new path with only one objective to PLAY as much as possible! spreading Peace, Love & Acro Yoga to every corner of the globe.