Leïla Lala Andres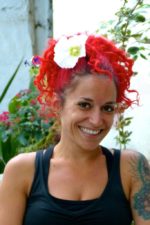 Bio:
Leïla is an artistic soul, she works on sensory.
Forming by Acroyogi's experiences and Acrobatic teacher with Partner Acrobatics, she decided to create Moonward, housing several activities :
*Acroyoga and Yoga ( Lessons, workshops, events…)
*Handmade creations, accessories, jewellery, materials (notably for BlackHat Motorcycles)
*Furniture producers
Leïla is a offbeat, jovial and originally but always safety character. She mix well dance, music, massages, theatral art, creations in all its forms and listening to oneself. To make it a driving force.