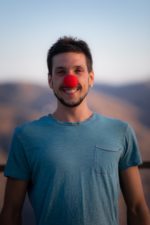 Bio
Lorenzo is an adrenaline and movement enthusiast.
During his teens, he practiced Artistic Gymnastics for three years and Parkour for five. Four years ago he started practicing snowboarding.
As a young kid, he was having fun climbing not only on trees but also on people. Today he's mainly focused on Acroyoga, Acrobatics, and Verticalism. Not much has changed!
Communication was always another passion of his. Finding the right words to pass the right information. That's a challenge that he always enjoys!
Thanks to the activities he practiced when he was younger and his huge desire to share, he's able to explain the movements simply and explicitly, while enjoying the practice and having fun.