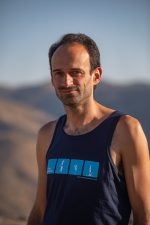 Bio
Since the first time that Manu, joined one Acro class in 2016, he immediately felt in love for the way that this practice transforms people building the sense of community, connection, and trust.
In is personal path, attended several Acroyoga Workshops, Immersions, Circus classes, and a Thai Massage course, where he had opportunity to learn and explore new skills and techniques.
Through his practice he experienced in himself the impact of the healing power of Acro, and how the patterned, repetitive, somatosensory, and relational activities that are regularly practiced transform the way a person understands and interpret his own emotions and relate to the other ones, changing for better the way that each of us move through the world. He is fascinated by the way that this practice, with some basic tricks, can drive people to experience a feeling of empowerment and increase of the self-confidence.
Since 2017 he has been focused in providing the quality conditions to the Lisbon Acro community be able to grow in a joyful, inclusive and safe environment hosting the JAM's of ACRO MONKEYS LX. Have also participated as co-organizer in the Acro Yoga Portugal Festival, and taught workshops.
For him, Acro is a long-term project, so he searches to improve his practice, in a healthy and sustainable progression, incorporating exercises and routines of others movement disciplines.
Português:
Desde a primeira vez que Manu experimentou uma aula de Acro em 2016, ele imediatamente apaixonou-se pela forma como esta prática transforma as pessoas construindo um sentimento de comunidade, conexão e confiança.
No seu percurso pessoal, frequentou vários Workshops de Acroyoga, Imersões, aulas de Circo e um curso de Massagem Tailandesa, onde teve oportunidade de aprender e explorar novas competências e técnicas.
Através da sua prática, ele experienciou em si mesmo o impacto do poder curativo do Acro, e como as atividades padronizadas, repetitivas, somatossensoriais e relacionais, que são praticadas regularmente, transformam a forma como uma pessoa entende e interpreta suas próprias emoções e se relaciona com as outras, mudando, para melhor, a maneira como cada um de nós se move pelo mundo. Ele é fascinado com a forma como esta disciplina, com alguns truques básicos, pode levar as pessoas a experimentar uma sensação de empoderamento e aumento da autoconfiança.
Desde 2017, está focado em proporcionar as condições de qualidade para que a comunidade de Acro de Lisboa cresça num ambiente alegre, inclusivo e seguro sendo o anfitrião das JAM's dos ACRO MONKEYS LX. Participou também como co-organizador no Festival Acro Yoga Portugal, e foi facilitador de workshops.
Para ele, o Acro é um projeto de longo prazo, por isso busca aprimorar sua prática, numa progressão saudável e sustentável, incorporando exercícios e rotinas de outras disciplinas de movimento.