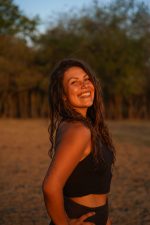 Bio
Nieves graduated as Yoga Teacher (2019) Acrobatic Teacher (2021) and as a Health coach (2023).
She grew up in a Retreat Center between the Spanish mountains, an environment surrounded by a versatility of movement and energetic practices which awakened her own passion for movement, not only as a hobby but as a healing modality to find balance between psychological, emotional and physical health.
Acro is a way that she can evoke her passion to connect and learn with and from others, she loves to teach and have fun as well as encourage her students to develop skills such as patience, respect and communication.
She loves to share from the heart. Writing and reciting are part of her essence, same as dancing which makes her soul feel expressed.
She loves weave into her teaching her knowledge about traditional and eastern nutrition, and to help others to listen to themselves and respect their own bio-individuality, bringing presence and enjoying the never ending beautiful journey.