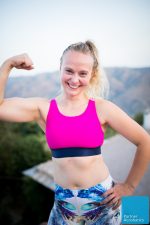 Bio
Hey! My name is Sarah or Viking Sarah in acro world speak. I've been practicing partner acro since summer of 2013! It all started when I started leading outdoor expeditions and my co-staff could do all these cool circus things. I learned from him that there was a professional circus school in the state I was finishing my bachelors in. The next time they ran a workshop weekend I made sure to attend! I then took a nearby job to keep going over a summer before moving to the Boston area. I've trained at ESH Circus Arts since then, and have gone to some acro festivals or trainings in Pennsylvania, Maryland and NC. I also have had the pleasure of this month long Partner Acrobatics training in Spain with the most wonderful crew of people you could ever imagine, and a two week intensive with PA in Thailand! I love my Partner Acrobatics fam, and cannot imagine a better pathway towards obtaining a TT certificate in this discipline.
Moving on to what makes me unique as a teacher: I am 90% Standing Acro and 10% acroyoga in my own practice. I have spent most of my time as a flyer but I also mid and base! I also professionally have a background in camp management and have often focused in on high-ropes and low-ropes, this means I've led people to make the scary jump off the zip-line or work together to complete a team challenge on the ground (such as the spiders web) or in the air (such as the giants ladder). My favorite is the teams working together to solve problems. I love this process of self discovery: uncovering one's strength and weaknesses and how they transcend to working with other people. Helping to utilize the biggest strengths in a group or partnership while building and supporting the growth or acceptance of weaknesses in ourselves and others is a beautiful thing. Working together to get new acro skills while staying safe is likewise a very beautiful process. It takes helpful cues, informative instructions, amazingly attentive spotters, a best foot forward effort, and supportive patience and understanding. It also takes responsibility and accountability.
For me as a teacher I hope to highlight the teamwork process, in a way that brings it more front and center. Inspiring a greater sense of individual accountability, assessment, and intentional self improvement work along with gracious understanding and gratitude for those you might train or practice with. Safety is a top priority, so having expectations that others are doing their part to try to make things as safe and successful as possible is a must. We can be silly, serious and safe together at the same time.
I hope you've enjoyed learning about me and my intent with the practice. I think it's time to get upside down now! 🙃