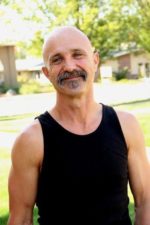 Bio
Tim Enright, LMT is a lifelong student of self-care, and a traveler of the contemplative path. His ongoing journey of holistic living has brought him to his life's work, practicing the healing art of massage therapy. Tim's education as a Licensed Massage Therapist (LMT) is dynamic, having trained internationally at The Costa Rica School of Massage Therapy with a proficiency in Advanced Swedish Massage and a specialty in Thai Massage. Locally, Tim trained at Live Well Studio as a Registered Yoga Teacher (RYT) with Yoga Alliance. Most recently, Tim's travels drew him to Thailand where he spent 6 months expanding his knowledge of Thai Massage. There, Tim also delved into the arts of Acro Yoga and Flying Therapeutics; he holds a certification for Teacher Training in Partner Acrobatics.
Yoga and Massage come together in a unique and nurturing modality called Thai Yoga/Massage. Thai Massage is an energy-based tradition that utilizes acupressure, reflexology, supported yoga postures, deep breathing, relaxation, and rich physical contact. Flying Therapeutics incorporate supported inversions and leverage gravity as a tool for nurture. Clients leave refreshed, having experienced the effortlessness and depth of a massage and the expansion brought about by yoga postures.
Sessions are aimed at bringing the subtle energies of the body into alignment, restoring balance and harmony in body, mind, and heart. Tim is known for his intuitive, compassionate, and empowering approach to bodywork and self-care.