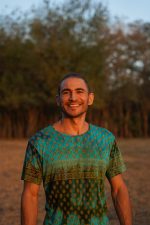 Bio
William is a big fan of learning by moving and has a passion of sharing this process in the acro community. His background as medicine doctor and acroyoga/acro teacher (certified by Acroyoga Montreal and Partneracrobatics) created an interesting combination on his teaching method, which involves:
-Learning tricks supported by a technical approach, with a deep understanding of the human body and mind, in a safe environment that gives confidence for trying new things;
-A double focus, both in the here and now and in the long-term process, with key concepts of having fun, facing challenges, cultivating healthy habits and stimulating longevity with quality of life.
As a hybrid practitioner himself (both as base and flyer), he can explain the necessary moves for learning acro in a broader and effective way.
William is fluent in Portuguese, English and Spanish, lived in Europe and now is helping to expand the acro community in Brazil. So you can expect a class with an inclusive, multicultural approach and respect for differences.