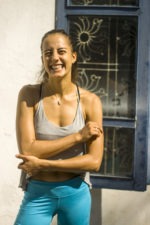 Bio
Yuvi was born and raised in Israel.
In Israel, she dedicated her life to movement and created a home within the Krav Maga practice.
Krav Maga is an Israeli method of self-defense recognized for its effectiveness & empowering methods world wide.
After 16 years of passionate and committed practice to Krav Maga she achived her Black Belt in 2011.
Following this achievement she continued to instruct Krav Maga for 2 years for the Israel Defense Forces.
During this time she focused her combat fitness practice to emphasize group unity & self empowerment to both female and male units.
Her time spent detecated to this rigourous practice inspierd her to seek out new playful movement expirences.
With this newfound curiousity & wonder she decided to travel to Asia.
During this time, she joined the acro yoga practice and started to find every opportunity to fly, base and play.
She found that through Acro Yoga she could express a deeper bond between the body, mind & breath for herself and her external world.
The feeling of harmony, connection, fear, trust, freedom and vulnerability is what drew her to the practice.
Since then, every opportunity to share and practice with as many people as possible has brought Yuvi joy.
Now Yuvi is based in Australia - Melbourne and excited to explore & share knowledge with this community.
* Lets Play as much as possible *