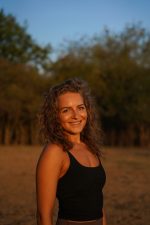 Bio
Zuzana is movement lover from Slovakia. She's curious about everything that includes physical practice and all creative ways of it.
She's a dancer, practitioner of many different practices and certified teacher of Yoga, Meditation and Movement flow. She loves to travel and enjoy sunny days.
Acro Yoga found her unexpectedly and she fell in love with this amazing practice immediately. Acro Yoga teaches her to enjoy small victories while using a playful way to learn different techniques, poses and create spectacular flows with amazing worldwide community. Her favorite area are creative L-base flows. She's always exploring different approaches to teach with focus on skills details and is excited to help you reach your acro goals in a creative, playful and safe way.