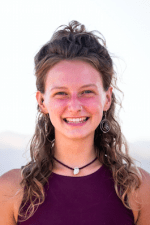 Bio
Issy is a yoga, acro and handstand teacher originally from the UK and currently based in Germany.
I love all things upside down. Whether alone whilst practicing handstands or, even better, whilst playing with other humans. My teaching focuses on finding the fun whilst encouraging a safe and sustainable practice. With years of experience teaching acroyoga flows in the UK, I am now focussing more and more on handstands and standing acro, as well as icarian and whip pops - I love the variety of sensations and emotions these different specialities can bring.
I adapt my teaching to the individual - giving space for all learning types and coaching based on specific needs. My aim is to help people feel empowered in their practice - celebrating first time moments and encouraging students to trust in their own abilities.