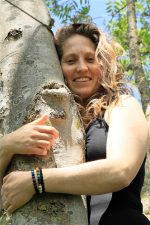 Bio
Let me introduce you to Lizzy. She may appear shy, but don't be fooled: she's a CrazyDanceMonkey with TeachersBlood in her veins!
At the age of 7 she started to assist her gymnastics coach, and she has been teaching ever since. She took one training-course after another. Expanding her knowledge & skills. Gradually developing her own unique teaching style, which focuses on fun, consent, (building) confidence, safety, non-violent communication and teamwork.
In the end of 2018 after a long period of being sick, AcroYoga came on her path and she got hooked. She fell in love with the free light flyer feeling, the strong grounded base feeling and the "I've got your back, I'll keep you safe" spotter feeling... A new world opened up for her and without knowing it, acro had put her on her spiritual healing path. And so, while doing acro, she started to heal & grow to become CrazyDanceMonkey she is today.
So: do you feel curious about the healing powers of acro? Are you looking for a group that welcomes you as you are? Are you ready to be challenged at your own level (in acro and/or in life?) Do you also like to dance?
Then Lizzy is your go-to-woman.
---------------------------------------------------------------------------------------------------------------------------------
Specialties: Acro4Kidz, Acro4Families & Acro4Healing.
Certificates: Gymnastics Coach (level 1+2+3,) All-round Dance Instructor, Kidz Dance Instructor, Fitness Trainer (level 1+2+3,) Personal Trainer, Kids Yoga Teacher, Partner Acrobatics Teacher…
Dreams: Create a hybrid women's acro team in the NL's. Create an empowerment course for GirlZ. Maybe create acro-classes for women who endured abuse. Maybe travel Europe with my dogs to teach & do acro.