Roberto Onorato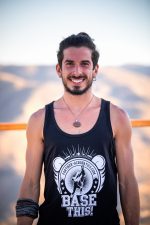 Bio:
Roberto has dedicated all his life to Movement. He strongly belives in this powerful tool as a way to explore the inner self and discover one's inner talents, auto-healing abilities and the full potencial of one's learning capacities in any contest. This is how he sets out to help people to grow as individuals and as members of the Human Community.
He graduated in sport science, besides he is technical director in "Sicily Taekwondo Accademy", hatha-vinyasa-therapeutic yoga teacher and acroyoga teacher.
He has been practicing martial arts since the age of 6 and It's through this experience that he felt in love with movement practices. Since then up to his 20s, he kept practicing and studying different way to express movement: yoga, acroyoga, contemporary dance and different kind of martial arts such as capoeira.
After several injuries caused by fighting competitions, Roberto was forced to seek terapeutic approaches to heal himself. That's how, little by little, his curiosity for healing techninques grew. He is now a massotherapist, reiki master and furthemore he is concerned with the study of qi nei tsang, thai massage and cinese medicine.
He is the founder of MTL "Moving To Learn", a methodology used to deal with all kind of learning disabilities. It combines kinesiology movements and breathwork with cooperative games, taekwondo, qi gong, meditation, relaxiation practicies, circle times and other different techniques.
Roberto deeply loves sharing with people. He strongly believes that conscious practices are one of the best tools we have to change the world as through conscious movement we become ourselves the change we want to see happen.