Stephanie Schmit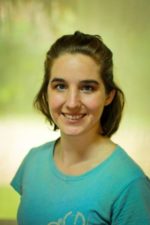 Bio:
Stephanie has loved being upside down her entire life, and this passion ultimately led her to a rewarding career as a circus performer. After graduating from MIT's mechanical engineering program, she attended a one-year circus school and physical theatre program at Circomedia in Bristol, England. Her specialties are partner acrobatics, handstand, hand-to-hand and acroyoga.
In 2013, Stephanie completed the partner acrobatics teacher training and has since held dozens of workshops throughout Europe and Asia.
As an instructor, she supports each student with a personalized framework that allows rapid development. Trust, communication and respect are key to success—a top priority is ensuring the teaching environment remains safe and supportive for everyone involved.
Watch out for the infectious energy and positive attitude Stephanie brings to the room – you won't stay on the ground or right side up very long!