Teacher Training | Spain 2022
August 1, 2022

-

August 28, 2022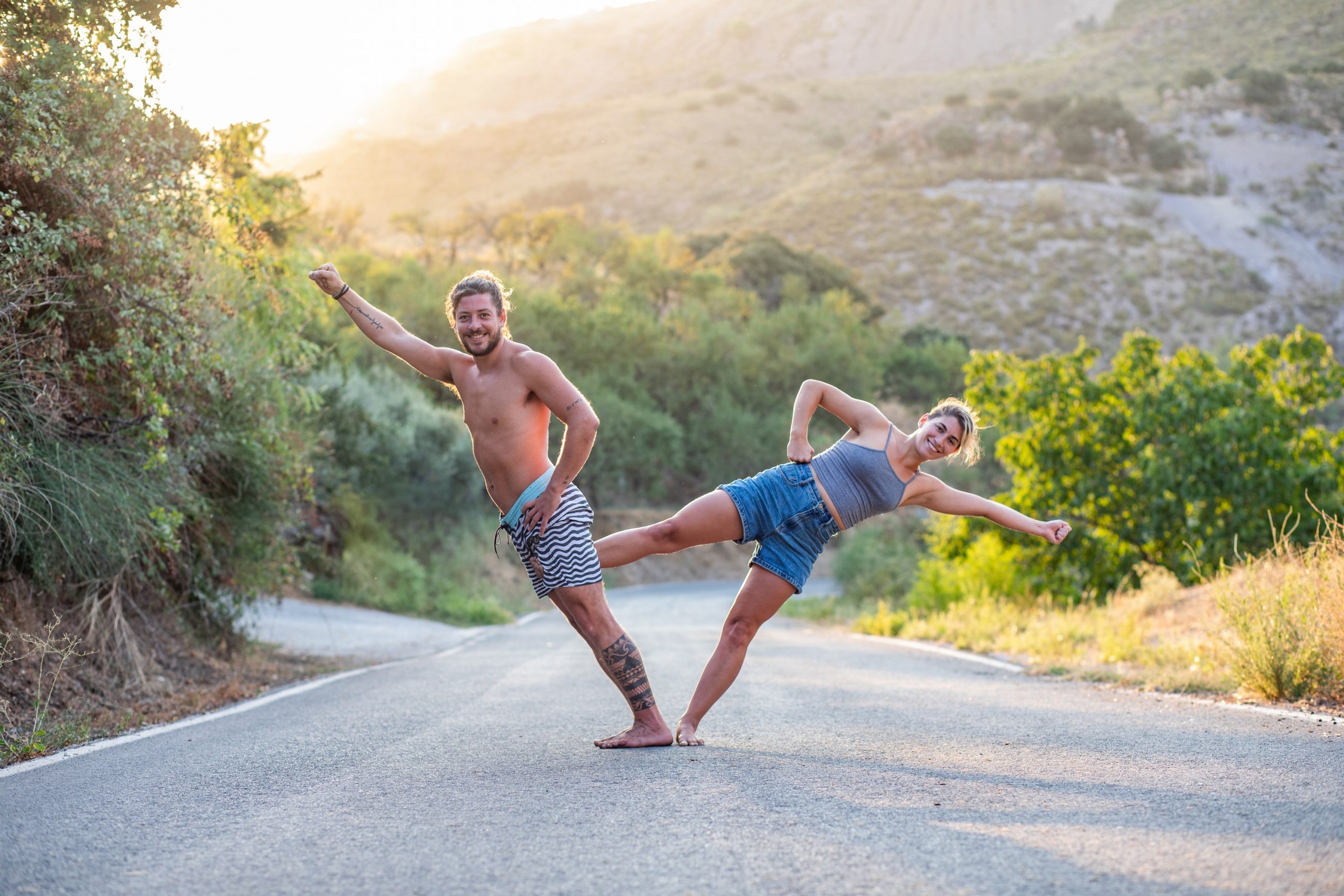 Program
Program
Our Partner Acrobatics teacher training program offers an opportunity to intensively train for four weeks, whilst learning the skills and tools to teach successful acro classes and workshops. We encourage and support our students in developing their own teaching style, based on the latest principals of neuroscience and motor learning and our own extensive teaching experience.
Moreover plenty of time will be dedicated to improve your personal acrobatic practice. Some time will be dedicated to prepare public performances and work on the aesthetics of your acro moves.
In our Partner Acrobatics programs we cover many different acrobatic disciplines: standing acrobatics, handstand training, washing machines, trio tricks, Icarian games, to name a few.
This physical intensity is balanced out with our prehab program and therapeutic sessions, which aim to heal and restore the body.
Teachers
Prerequisites
Prerequisites
We do require require you have some acrobatic skills. We need you to honestly and accurately asses whether the following skills are accessible/of ease to you (while working with someone of similar skill level) as a base OR flyer, at the time of application you must be able to accomplish the skills without a spotter helping (they can be there for safety).
On your application you will be asked to rate your comfort level in the following…. while they are not prerequisites, the more experience you come with the more you will gain out of the training!
Send us 1 video
1-2 minute acrobatic sequence of your choice.
The video should represent where you are at skill-wise, however, it doesn't need to be all of the craziest things you can do—basic and clean! The video also doesn't need to be of high production quality, a quick one on your cell phone is fine:)
Location
Location


Cortijo Caseria Del Mercado is a small organic farm high in the Alpujarras mountains of Andalucia, southern Spain.
In addition to the huge array of fruit and vegetables grown on site the farm has goats, horses and a peacock breeding sanctuary and the farm produces its own organic olive oil.
Not only is the cortijo a working farm it has been adapted as a retreat centre with traditional Spanish accommodation, a natural mineral water swimming pool and a yoga shala.
The local area is fantastic hiking country with spectacular mountain views and isolated "White villages" (paint).
More info on the venue can be found here.
Accommodation
The accommodation is included as part of the course price.
The venues farm buildings offer various basic but comfortable accommodations with a communal and family feel .
Shared accommodation is included in the course fee, numbers permitting. For an additional fee single accommodation may be available, please contact us for availability.
For those camping: please bring all your own camp gear, we don't provide tents but we have lots of extra blankets.
---
Food


3 mostly vegetarian meals daily are included in the training fee. Organic and local when possible.
There is a large communal kitchen and 3 smaller kitchens where students can prepare their own snacks etc. Seasonal fruits and vegetables are available from the farm and they are amazing!
---
How to get there
The cortijo is high in the mountains close to a tiny village called Castaras. The closest town is Orgiva.
We will provide pick up from both Malaga Airport at 3pm and Granada Bus station at 4pm on the 1st and arriving back to both locations on the 28th at noon.
The closest airport Granada is about 1.5 hours away from our venue.  Malaga is 2 hours away.
If you can't make our pick up time you can take a bus to Orgiva from Granada – check www.alsa.es timetable.
GPS cordinates: 36° 55.543, -3° 16.388
On google maps.
Internet
A wifi connection is available at the Cortijo although it's not the most reliable or super-fast.
Recommendations
We do recommend that you invest in a good travel insurance then if the unexpected happens you will be well looked after financially.
Fees and Application
Fees and Application
Prices include the training, accommodation and three mostly vegetarian meals daily.
The price of the course does not include flights.  Group transportation is provided from Malaga and Granada.
Prices are per person. Please contact us about the availability of private rooms.
Regular price : coming soon


Prerequisites
Before applying please upload your prerequisite video to youtube/facebook etc.
Application
Space is limited and we expect to fill up.
Applications here!
Don't hesitate to email info@partneracrobatics.com with any further questions or application information.
After being accepted we will send you payment details. Only once you have paid your space will be guaranteed at the training.
We will be taking deposits close to the date. If the training needs to be canceled due to the current global situation any deposit will be refunded.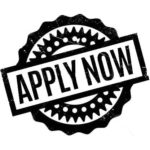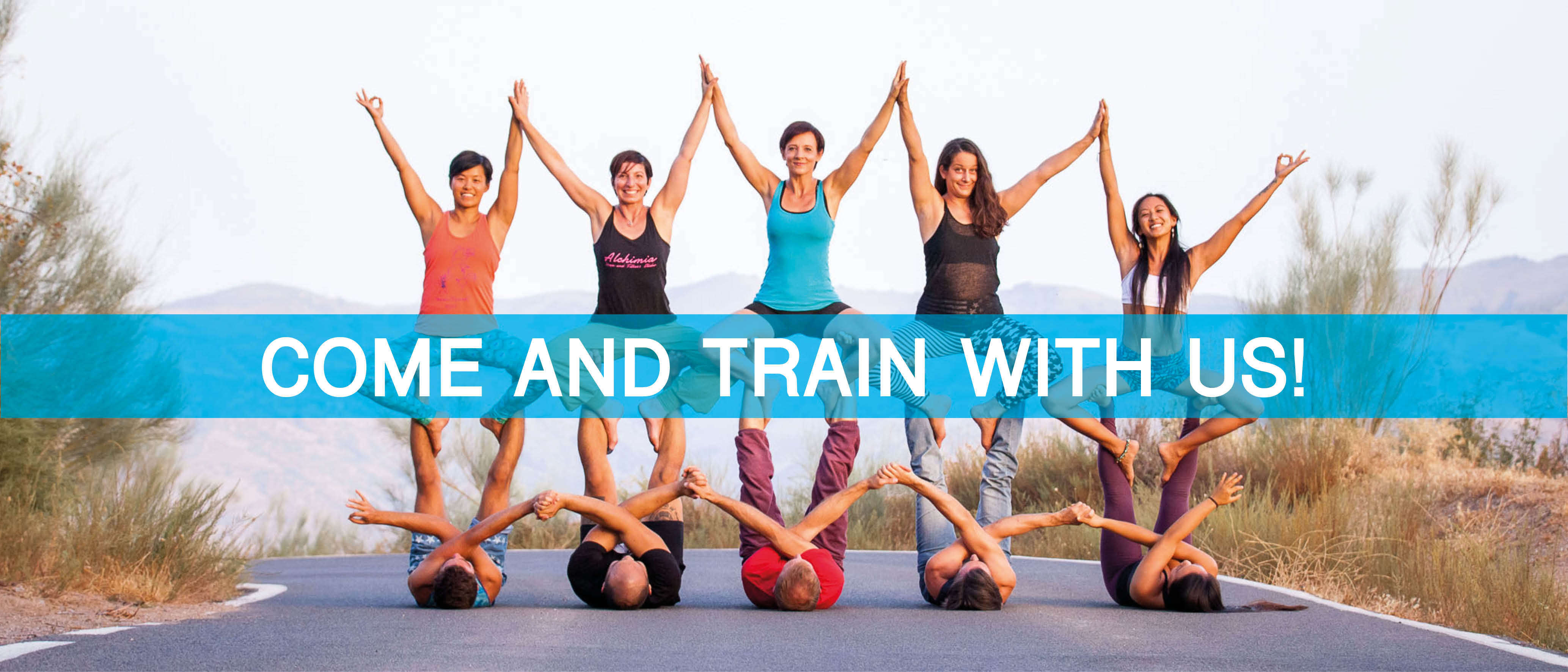 Schedule
Schedule*
*Sample schedule subject to changes – including when rest days will be.
Week One
(Swipe schedule for more)
Sun
Mon
Tue
Wed
Thur
Fri
Sat
8:00 – 9:00

Opening Circle

 All

Prehab

Emily

Prehab

Emily

Prehab
Emily

Prehab
Emily

Prehab
Emily

10:30 – 11:30

Handstands
Emily

Gabe

Handstands

Gabe

Handstands

Emily

Sports Science Lecture

Gabe

Handstands
Emily

Gabe

Handstands

Gabe

11:30 – 1:00

Foundations

Emily

Gabe

L-Base transitions
Gabriel

Emily

Emily
David

Therapeutics

Gabe

Tempos & Db. base

Emily

Standing Transitions

3:30 – 4:30

Arrival

Handstands

David

Handstands

Emily

Rest

Handstand

Gabe

Handstands
David

4:30 – 6:00

Arrival

F2H & Standing Basics

ZsaZsa
Emily

Shoulder Stands/Needles & Thigh Stands

Icharian

Gabe

David

*Shoulder prehab

 Rest

Emily

*Shoulder prehab

8:00 – 9:00

Prehab Intro

Emily

Massage

Gabe

Teaching Theory lecture
Week Two
(Swipe schedule for more)
Sun
Mon
Tue
Wed
Thur
Fr1
Sat
8:00 – 9:00
 Rest

Prehab

Emily

Emily

Emily

Teaching Theory 3 Lecture

Rest

Rest

10:30 – 11:30
 Rest

Handstands

Emily
Gabe

Lecture

Emily

Handstands
Zsazsa

Teaching Theory 3 Lecture

Rest
Rest
11:30 – 1:00
Rest

Washing Machines

Gabe
David
Emily

David

Practice Teaching
Gabe
Emily

Rest
3:30 – 4:30

Rest

Handstands
David

Handstands

Zsazsa

H2H

David
Emily

Rest

Rest
4:30 – 6:00

Rest

Practice Teaching

Emily
Zsazsa

Free training w. coaches

Gabe
Emily
Zsazsa

H2H
David
Emily
Rest
8:00 – 9:00
 Rest
Stretching & shoulder prehab
Emily
Week Three
(Swipe schedule for more)
Sun
Mon
Tue
Wed
Thur
Fri
Sat
8:00 – 9:00
Prehab
Emily

Prehab

Emily

Prehab
Emily

Prehab

Emily

Rest

Prehab
Emily
10:30 – 11:30
Handstands
Emily
Zsazsa

Handstands
Emily

(Gabe)

 Practice Teaching

Emily

Gabe

Practice Teaching
Open Day
Gabe Emily
Rest

Handstands

Gabe

Emily

Handstands

Martin
Emily

11:30 – 1:00
Inlocate prep
Martin
Emily

Practice Teaching

Emily

Gabe

Practice Teaching
Open Day

Zsazsa

Emily

Rest

L-base entries & exits
Gabe
Emily

H2H – Pops
Zsazsa

Emily

David

3:30 – 4:30

Handstands
Zsazsa

Handstands

Gabe

Handstands

David

Practice Teaching
Open Day

Gabe

Handstands

Emily
Gabe

Rest

Handstands
4:30 – 6:00

Pass the flyer
David Emily
Gabe

F2H

David
Emily

Dance Acro

David
Zsazsa

Practice Teaching
Open Day Gabe
Whips
Emily
Gabe
Washing machines
Mimi
Emily*Shoulder prehab
8:00 – 9:00

Massage

Gabe

Shoulder prehab & Stretching
Emily

Massage

Student lead
Week Four
(Swipe schedule for more)
Sun
Mon
Tue
Wed
Thur
Fri
Sat
8:00 – 9:00
Prehab
Emily

Rest

 Prehab

Emily

Emily

Emily

Emily

Departure
10:30 – 11:30
Handstands
David

Rest

Handstands

Emily

Lecture Recap
Emily
Handstands
Zsazsa

Handstands

Gabe

Departure

11:30 – 1:00

Standing transitions
David
Emily
sa

Rest

Trios

Gabe
David

Emily

Practice Teaching
Zsazsa
Gabe

Pass the flyer
David

Gabe
Emily

Trios
Zsazsa
Emily
David

Departure
3:30 – 4:30

Gabe

Handstands

Emily

Jam
All

Departure
4:30 – 6:00

Gabe

Washing Machines

Gabe

Zsazsa

H2H
Emily

Jam
All

Departure
8:00 – 9:00
 Rest

Massage

Student Led